ESTHETICS in OBJECTIVISM:
"Art is a selective re-creation of reality according to an artist's metaphysical value-judgements." The purpose of art is to concretize the artist's fundamental view of existence. Ayn Rand described her own approach to art as "Romantic Realism": "I am a Romantic in the sense that I present men as they out to be. I am Realistic in the sense that I place them here and now and on this earth." The goal of Ayn Rand's novels is not didactic and artistic: the projection of an ideal man: "My purpose, first cause and prime mover is the portrayal of Howard Roark or John Galt or Hank Rearden or Francisco d'Anconia as an end in himself-not as a means to any further end."
Recommended writings of Ayn Rand on ART and Literature:
The Romantic Manifesto (1969): Ayn Rand's philosophy of art, with a new analysis of Romantic school of literature. Essays include: "Philosophy and Sense of Life." "The Psycho-Epistemology of Art," and "What is Romanticism?"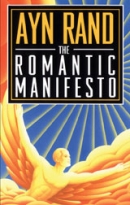 For more information on the Ayn Rand Institute please contact:
The Ayn Rand Institute
P.O. Box 51808
Irvine, CA 92619-1808