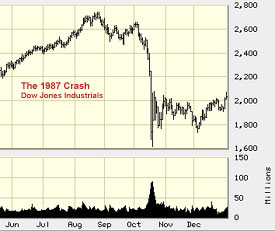 In finance, Black Monday refers to Monday October 19, 1987, when stock markets around the world crashed, shedding a huge value in a very short time. The crash began in Hong Kong and spread west to Europe, hitting the United States after other markets had already declined by a significant margin. The Dow Jones Industrial Average (DJIA) dropped by 508 points to 1738.74 (22.61%).
Causes of 1987 Market Crash: Potential causes for the decline include program trading, overvaluation, illiquidity, and market psychology.
Quotes from the 1987 Stock Market Crash to get a feel for the mood in 1987.
"The market crash of 1987 caught most economists, scholars, and investment professionals by surprise. Nowhere in the classical, equilibrium-based view of the market so long considered inviolate was there anything that would predict or even describe the events of 1987. The failure of the existing theory left open the potential for competing theories."
-Robert Hagstrom in Investing, the Last Liberal Art
"The fundamental business of the country, that is production and distribution of commodities, is on a sound and prosperous basis."
-Herbert Hoover, after the October 1929 crash
"The borrowing has to stop. The market slide was a shot right between the eyes that had better wake us all up to simple fact that we can't keep romping forever on borrowed money."
-Lee Iacocca, Chrysler Corp Chairman, October 20, 1987
"There is so much psychological togetherness that seems to have worked both on the up side and on the down side. Its a little like a theater where someone yells 'Fire!'"
-Andy Grove, Intel CEO, October 20, 1987
"As a practical matter, people are looking for whippings boys. Program trading looks mysterious. People don't understand it, so it acquires and image of black magic."
-Joseph Grundfest, SEC commissioner, October 22, 1987
"It makes everyone feel vulnerable, as thinking people. When you see a market get terrribly whacked out, it makes you think how faulty and useless most people's thinking is. It identifies clearly how small we all are, how powerless. It's very distressing."
-Edward Gordon, head of a real-estate company, October 24, 1987