MORNING> Namdaemun Market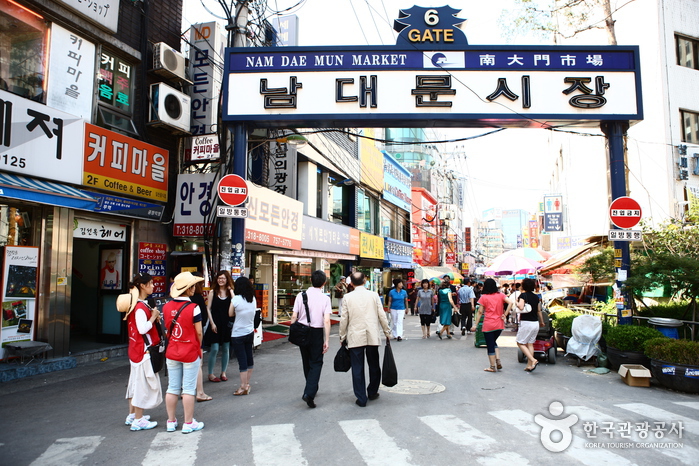 Namdaemun Market, located in the very center of Seoul, is the biggest traditional market in Korea selling children's clothing, men & women's clothing, daily miscellaneous goods, kitchenware and local and imported products. Most shops have their own factories and make the products themselves offering both wholesale and retail prices which enable visitors to purchase various shopping items at extremely inexpensive prices. Foreign visitors to Namdaemun Market show different tastes: the Japanese are more into foods like gim (seaweed), gimchi, and ginseng, while the Chinese show interest in clothing and miscellaneous goods. On the other hand, most tourists from the West simply enjoy the ambience of the traditional market. Hours vary by store, so it's advisable to plan in advance according toa shopping list before you start actual shopping.

http://visitkorea.or.kr/enu/SH/SH_EN_7_2_4_1.jsp
AFTERNOON> Namsangol Hanok Traditional Village
If you get off at Chungmuro Subway Station, you are right in front of Namsangol Hanok Village (traditional Korean village). You may consider it interesting to find this area standing between the tall buildings. This village has five restored traditional Korean houses and a pavilion, a pond and a time capsule, which make it a perfect spot to take a walk.

When you enter the front gate, you will see the vast valley and the Chunugak building to the left of the pond. Along with the pond, it is a splendid place where performances are held. On the side you will see five traditional houses. These houses were rebuilt after the traditional houses of Joseon Dynasty and belong to those of various social classes, ranking from peasants to the king. The furniture in the house is situated to help guests understand the daily life of the past, and the clean, traditional houses and their antique items provide a great photo op. If you would like to check out some souvenirs, stop by the traditional craftwork exhibit where you can buy small dishes and other items. You can also have traditional tea and refreshments. On the grounds, there are traditional games you may try such as 'neolttwigi' (sea-saw jumping), 'tuho'(arrow throwing) and 'yunnori' (traditional game of throwing wooden yut sticks). Don't forget to go see the traditional marriage ceremony! During the weekends, traditional marriages are shown at Bak Yeong Hyo's Residence. The traditional marriage ceremony is an interesting event for both Koreans and foreigners and many gather to watch. During the winter season (November to February), there are not as many wedding ceremonies as held in the spring and fall. Weddings are typically held around noon or 1 p.m. and visitors can take pictures with the husband and wife wearing traditional wedding costumes. There is also a time capsule commemorating Seoul's 600 Year Anniversary that was buried in 1994 and is scheduled scheduled to be reopened four hundred years later in 2394.
http://visitkorea.or.kr/enu/SI/SI_EN_3_1_1_1.jsp?cid=264116
EVENING/NIGHT> Namsan Tower
N Seoul Tower located on Mt. Namsan offers great panoramic views of the city, and has been a symbol of Seoul since it first opened to the public in 1980. The tower has not only been given a new look, but also a new name following a complete makeover. It is now a true cultural space with various performances, movies, exhibitions as well as upscale restaurants and snack bars.
N Seoul Tower Floor Guide

① N TOWER T5 : 'N Grill,' a revolving restaurant
② N TOWER T3 : Digital Observatory / Shocking Edge/Digital Telescope
High-powered Telescope
③ N TOWER T2 : Analogue Observatory / Down Elevator / Sky Restrooms
Souvenir Shop
④ N TOWER T1 : Korean restaurant 'Hancook'
⑤ N PLAZA P2(F2) : Café Swee Tree / Roof Terrace / Multi Stage / Sky Road
⑥ N PLAZA P1(F1) : Bakery / Characters & Photos / Convenience store / Food Court / Reed of Light Garden / Shower of Light/Glass Terrace / Souvenir Shop / Ticket booth, etc ⑦ N PLAZA P0(B1) : Pavilion/Children's Theater/Observatory Elevator Lobby/Bakery