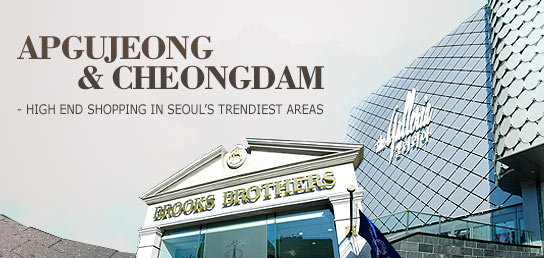 It's quite possible that the affluent areas of Apgujeong and Cheongdam may not boast as wide a selection of shops as, say, Myeongdong, their neighboring counterpart. But what they lack in variety, they most certainly make up for ten fold in quality. With virtually no street stands or outdoor vendors to speak of, most of the purchasing is done indoors at lavish department stores or the myriad fashionable shops dotting the many side streets. Long regarded as "The Beverly Hills of Seoul", if it's stylish, upscale goods you're after, you'll surely find them here. Prices here are steep, but if money's no object the trendy area will soon prove to be a very welcoming experience. While Apgujeong remains more of a magnet for those in their 20s, Cheongdam continues to attract a slightly older crowd of 30~40-year-olds.
Rodeo Drive (압구정로)
Prada, Gucci, Dolce & Gabbana, Brooks Brothers, Hugo Boss, Jil Sander, Armani and Louis Vuitton are just some of the designers that have flagship stores looming along the famous tree-lined corridor connecting Cheongdam to Apgujeong. And with a dizzying display of selection and both knowledgeable and attractive staff on hand it's not at all surprising that this is usually where a host of celebrities and successful entrepreneurs come to do their shopping.
Rodeo Street
A short distance away from Galleria Department Store is the long, meandering stretch of Rodeo Street. Shops along here are much smaller and often only carry limited numbers of particular styles, making items much more original and unique. You can find brands such as Banana Republic, GAP, Abercrombie & Fitch, Club Monaco, American Outfitters and Old Navy that are often harder to track down at larger stores or shopping malls. Rodeo Street came into existence during the 1990s and started drawing in quite a following of younger people as new shops and boutiques began sprouting up one by one.
http://english.visitkorea.or.kr/enu/SH/SH_EN_7_4.jsp?cid=552221
** Went to SM Building of course! Plus MyeongDong + Etude House+ Nature Republic+ Face Shop