BEST WAY TO SEE SEOUL!!! http://en.seoulcitybus.com/
We took City Circulation Course: 26 Stops!
Our Stop that took us about 4 hrs: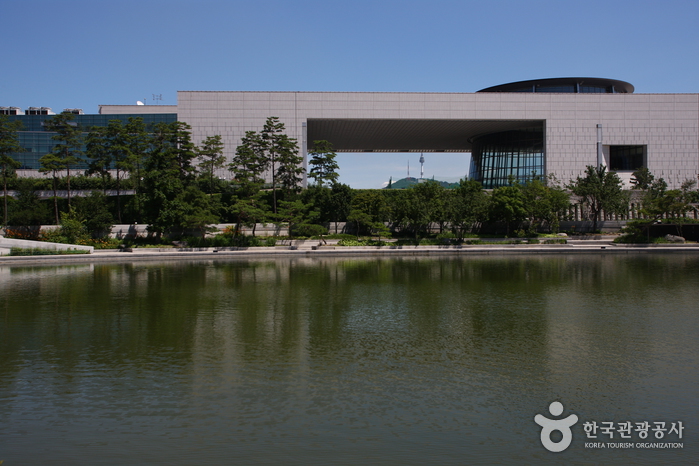 The National Museum of Korea is located only 1.5km away from Yongsan Station. It is the largest museum in Korea and houses precious Korean cultural assets that silently tell the story of Korea's fascinating history, from ancient days to the modern era. The museum, in turn, is close to Yongsan Family Park, a wooded grassland with a pond that serves as a natural habitat for various species of birds, as well as over 80 different kinds of trees. The War Memorial of Korea is located approximately 1km from Yongsan Station toward Samgakji. It displays a daunting array of collections and wartime relics.

In addition to galleries with a wide array of national and international pieces, the National Museum of Korea is the stage for a number of cultural activities related to relics collection and preservation, research and analysis, social training, academic publications, international cultural exchange programs, concerts, and more. Visitors of all ages have the opportunity to participate in a number of educational events and quality cultural programs. For those who prefer to tour at a leisurely pace, the museum grounds have a number of environmentally friendly spaces and rest areas.
*
Exhibition Hall Information

Prehistory and Ancient History Gallery on F1
The southern part of the Ancient Hall consists of 10 exhibition rooms, each of which features a different era from the ancient Paleolithic Age to the era of the Balhae Kingdom. Here, masterpieces and historic items from prehistoric eras or ancient times are mainly on display. (10 exhibition rooms: Paleolithic Age/ Neolithic Age/ The Bronze Age/ Early Iron Age/ Proto-Three Kingdom Era/ Goguryu Kingdom Era/ Baekje Kingdom Era/ Gaya Kingdom Era/ Unified Silla Kingdom Era/ Balhae Kingdom Era)

Medieval and Early Modern History Gallery on F1
The northern part of the History Hall consists of 9 rooms, each of which is under 9 different themes including traditional ideologies, kings and Dynasties of Goryeo to Joseon Dynasty. Historical documents and items on display are interesting and easy to understand for visitors. (9 exhibition rooms: External Exchanges/ Traditional Ideologies/ Society & Eeconomy/ Kings & Nations/ Documents/ Epigraph/ Maps/ Hangeul/ Printing)

Calligraphy and Painting Gallery on F2
Visitors may enjoy masterpieces of Korean calligraphy, paintings, Buddhist paintings, and woodworking & lacquerware. (4 exhibition rooms: Calligraphy Room/ Paintings Room/ Buddhist Paintings Room/ Wood & Lacquer Room)

Donations Gallery
Invaluable culture assets and items donated by Yi Hong-Geun, Bak Byeong-Rye and other donors are on display here. Visitors can not only appreciate the beauty and significance of each piece, but also the generosity of its donor. (Exhibition rooms: Yi Hong-Geun Room/ Donated Cultural Assets Room/ Kim Jong-Hak Room/ Yu Gang-Yeol Room/ Bak Yeong-Suk Room/ Choi Yeong Do Room/ Bak Byeong Rye Room/ Kaneko Room/ Yu Chang-Jong Room/ Hachiuma Room/ Yi U-Chi Room)

Sculpture and Crafts Gallery on F3
Presenting Buddhist Sculptures and metal & ceramic works that emphasize the beauty of Korean culture. (Exhibition rooms: Buddhist Sculptures Room/ Metal Crafts Room/ Ceramic Crafts Room – Celadon Porcelain/ Ceramics Crafts Room – Buncheongsagi/ Ceramics Crafts Room – White Porcelain)

Asia Gallery on F3
Displays cultural pieces from China, Japan and Central Asia to increase public understanding of Korea's neighboring countries and to promote cultural diversity (6 exhibition rooms: Indonesia Room/ Central Asia Room/ China Room/ Cultural Assets from Sinan Underwater Room/ Excavated Relics of Nangnang Room/ Japan Room)