"Love the life that you have, want the life that you have, and be happy with every day from now until eternity."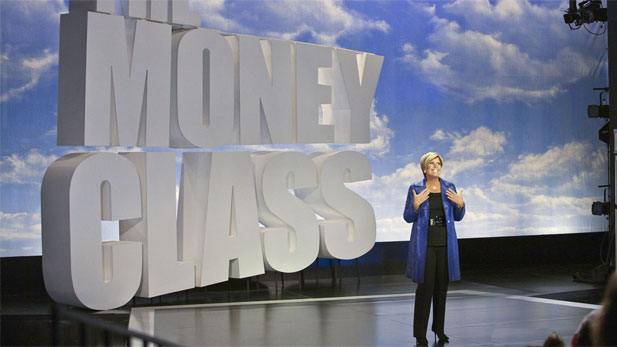 Read more at Suite101: Suze Orman's new book, "The Money Class," a PBS Special http://www.suite101.com/content/suze-ormans-new-book-the-money-class-a-pbs-special-a357092#ixzz1Gbbd0vJN
 Watching right now.... "Suze Orman's The Money Class"on channel KCTS59 In Suze Orman's Money Class financial powerhouse Suze Orman delivers her expert take on what actions everyone needs to consider in light of the new economic reality in order to secure a hopeful and sustainable financial future. After the upheavals of the economic downturn that began in 2008, Orman believes it's critical to rethink many of the traditional strategies we've been using to achieve our financial goals.
In this special, Orman offers hard-hitting advice in her trademark no-nonsense style on how to navigate today's unsettling economic waters. The core of her message is an inspirational re-imagining of the American Dream – based on integrity and standing in your truth.
Throughout this financial master class, Orman equips viewers with timely, powerful, and often surprising advice for getting a grip on the most important financial fundamentals: understanding the opportunities and pitfalls of the real estate market, raising financially aware children, borrowing for college and paying off student loans, building a career, saving and investing, planning for retirement, and more.
As Orman puts it, "I am calling on you to re-educate yourself, to discover—perhaps for the very first time—what truly constitutes your new American Dream. You will learn what it means to stand tall in your truth today, so that you can realize your vision for tomorrow." 
Taped before a live audience in Minneapolis at the University of Minnesota, this special presents fresh insight in Orman's time-honored style: plenty of frank and down-to-earth advice combined with compassionate and humorous Q and A. Orman's much-anticipated new program will offer viewers nationwide the insight and encouragement they need to succeed on this new financial frontier.
 The premiere broadcast of Suze Orman's Money Class will be accompanied by the publication of Orman's new book: The Money Class: Learn to Create Your New American Dream (Spiegel & Grau).
PBS special programming invites viewers to experience the worlds of science, history, nature and public affairs; hear diverse viewpoints; and take front-row seats to world-class drama and performances. Viewer contributions are an important source of funding, making PBS programs possible. PBS and public television stations offer all Americans from every walk of life the opportunity to explore new ideas and new worlds through television and online content.
Acclaimed personal finance expert Suze Orman was twice named one of the "Time 100," Time Magazine's list of the world's most influential people, and named by Forbes as one of the 100 most powerful women. She is a two-time National Emmy winner for her PBS specials, writer of eight consecutive New York Times bestsellers, and seven time Gracie Award winner. She is also a contributing editor to O, the Oprah Magazine.