Jem, also called Jem and the Holograms, is an American animated television series that ran from 1985 to 1988 in U.S. first-run syndication. The show is about music company owner Jerrica Benton, her singer alter-ego Jem, her band the Holograms, and their adventures. Office-goer by day- rock star by night!
Plot
The central "secret" of the series is that Jem, lead singer and frontwoman of the rock group Jem and The Holograms, is in fact the alter ego of Jerrica Benton, owner/manager of Starlight Music. Jerrica adopts this persona with the help of a holographic computer, known as Synergy, which was built by Jerrica's father to be "the ultimate audio-visual entertainment synthesizer" and is bequeathed to Jerrica after his passing. Jerrica is then able to command Synergy to project "the Jem hologram" over herself by means of the remote micro projectors in her earrings, thus disguising her features and clothing and enabling her to assume the Jem persona. She does so to acquire money to support Starlight Music and the Starlight Foundation for Girls, a foster program founded by her late mother Jacqui Benton. The band The Holograms consists of: Kimber Benton, Jerrica's younger sister, keyboardist and main songwriter for the band; Aja Leith, guitarist; and Shana Elmsford, who plays the synth drums. Aja and Shana are also childhood friends and adopted foster sisters of Jerrica and Kimber. Shana briefly leaves the group to pursue a career in fashion, at which point a new character, Carmen "Raya" Alonso, is introduced as her replacement. When Shana returns, Raya remains the Holograms' drummer while Shana takes up the guitar. Only The Holograms are aware of Jem's secret identity and the existence of Synergy when the series begins.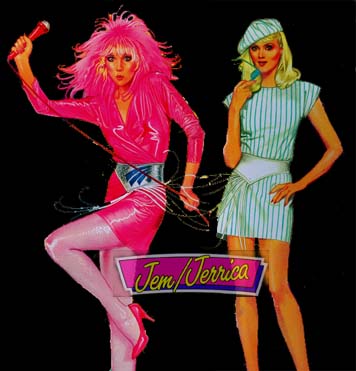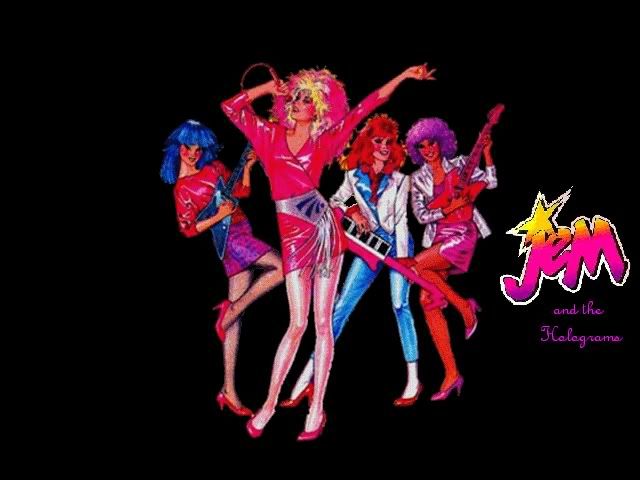 <Welcome back nostalgia... high heels and those preppy clothes but what is up with the plastic hair!! Can't believe I used to want to dress like them! I used to watch Jem and the Holograms on Tv at 7:30 while my granny used to plait my hair.. I am such an 80s child.. although it was 91-92 when I used to watch it along with BBC's Asia Today with Daljit Daliwal. This is probably the show where I learnt the word 'misfits'>I love vintage!